Product Description
BUILT TO LAST! American Flag static window cling. Customized your own with ACU, yellow ribbon or a HIRE A HERO campaign. Great for application to cars, trucks, busses, aircraft & storefront windows within your community. Window cling applies in reverse from inside the store or vehicle window. Cannot be peeled off from passers by. Product size 4" x 6".

Cellophane packaged in individual packs of 100. 10,000 pieces minimum custom order at .25 each

Any size. Any color can be produced. Velcom also provides standard stickers & bumper stickers. Free small quantity price quotes available too.
PHONE 818-895-8900
EMAIL Velcomone@aol.com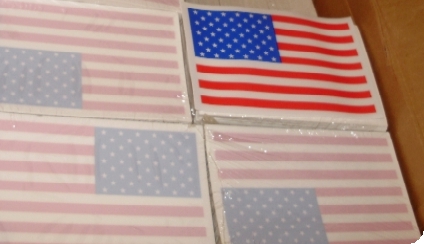 ---
Find Similar Products by Category
---
Customers Who Viewed This Product Also Viewed